Huawei is really investing a lot in their laptop category this year, making their Matebook grow from 30k to 119k with the Matebook D15, D14, and Matebook X Pro. This time they are tapping into the $1000 USD category, particularly with the Huawei MateBook 14 2020 powered by the Ryzen 5 4600H Processor having an SRP of Php54,999.
Huawei MateBook 14 2020 Specs
14-inch IPS display, 90% screen to body ratio, 3:2 Aspect ratio, 100% sRGB color gamut, 300 nits
AMD Ryzen 5 4600H Processor
AMD Radeon Graphics
512GB PCIe SSD
16GB DDR4 2666MHz Dual Channel RAM
2×2 MIMO IEEE 802.11a/b/g/ac
2x USB-A 3.2 Gen 1, USB-C, HDMI, Audio combo jack
Fingerprint power button
56Wh Battery, 65W Charger
Windows 10 Home
So what are the points this laptop can offer? Upon using the laptop for a week we're quite impressed and here are our initial impressions for this laptop.
Built & Quality
Similar to the MateBook Pro X, the MateBook 14 2020 is built of overall metal from the lid to the inner panel and even bottom panel. It portraits strong curved lines from the outer panel, and soft sandblasted touch quality till the inside. Making it not your ordinary laptop to hold at this price point, Huawei really made sure that the MateBook 14 2020 is built of quality.
The display is a 3:2 aspect ratio for a laptop, making the bezels thinner resulting in a taller resolution as compared to the traditional 16:9 ratio display. This is a nice achievement to see better content in excel, browsing, and even other content are good.
The keyboard is similar to the previous laptops with ample travel distance and a quiet or soft feel. It's a bit weird at first, but still above average laptops with even thinner profiles. What's nice is that the keyboard is overall quiet if you want to, ideal for typing while on a conference call.
On the left side is the HDMI, 3.5mm Audio Jack which is appreciated that it's not removed. Plus the dedicated type-c port for charging through the 65W Power Delivery adapter.
On the right side are two USB Type-A ports which are ample for storage and possibly other connections. Most likely we recommend using a Bluetooth mouse to save a port instead of the wireless receiver.
What's nice is that the bottom panel shows ample ventilation for both the hinge and the elevated grooves for the bottom part. The good thing is that instead of the traditional 4 feets, a long rubber hump is now located for better elevation.
Performance
What's nice about the Matebook 14 2020 is the Ryzen 5 4600H processor, its performance is comparable to an Intel Core i7 10th generation processor. Our friends from Jam Online showed good stats over its crystal disk for the NVMe SSD performance. It's ideal for good writing while multi-tasking using the 16GB RAM.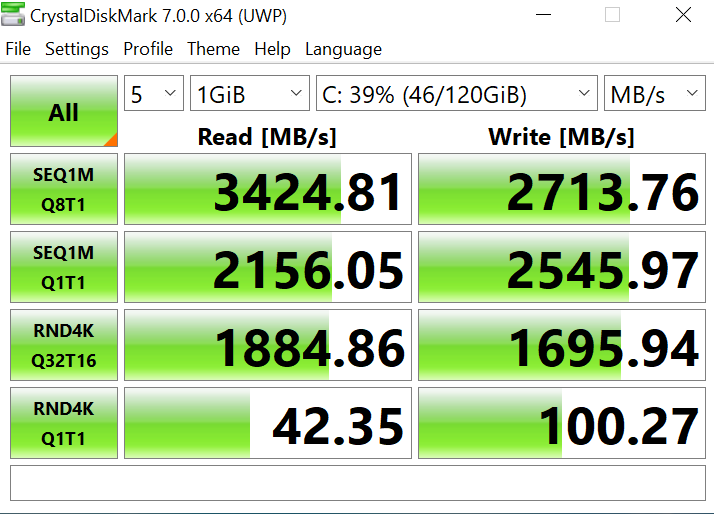 The Matebook 14 2020 Ryzen 5 4600H is definitely no small fry processor flying with better stats in Cinebench, Geekbench Multi-core, 3D Mark Time Spy compared to an Intel Core i7-1065G7. There is just a slight decrease in performance on the single-core tasks, which is not a monumental disadvantage.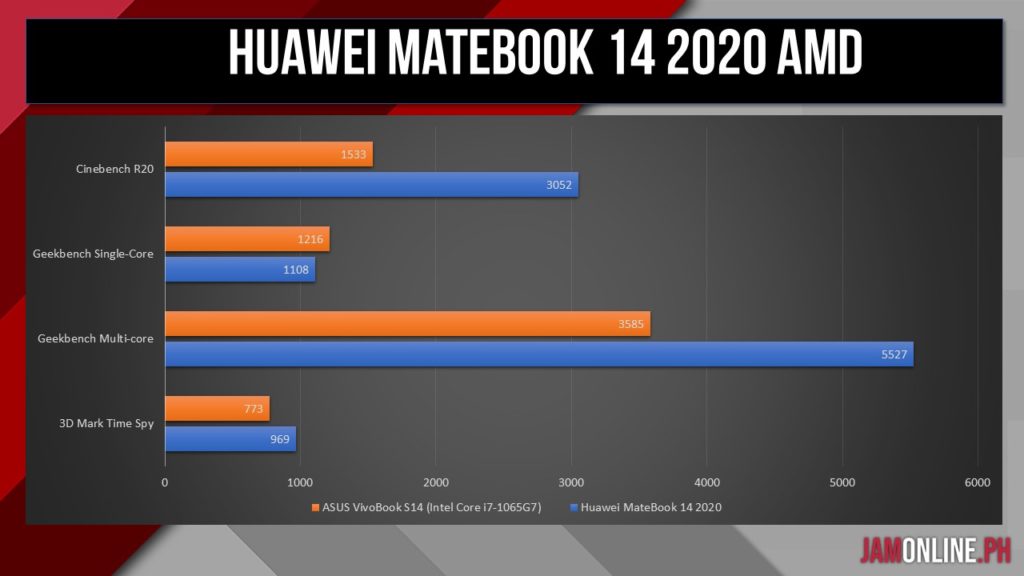 Nit-Picky
Don't get us wrong, Huawei's camera placement on a pop-up placement on the function row is genius. But the angle is still off for us, given that most of my con calls need an activated camera and primarily show my chin. So we have to elevate the back of the laptop to adjust the angle.
Although the camera quality is clear and nice. This is definitely not a cheaper out webcam with a 480p resolution, definitely at least HD resolution for high-quality zoom calls.
Good Audio Quality
The bottom chassis shows 4 holes that are for the audio, which is really nice that the conference calls I have don't have an echo of the speakers to the audio especially when talking. Honestly, this is my pet peeve on laptops that can't even cancel out their own audio and makes your overall conference calls haywire.
At the bottom is two speaker holes, although there is no Harman Kardon speaker system compared to the MateBook Pro X, it's definitely L.O.U.D! Loud enough for sufficient for 2-3 audio entertainment. The speakers have sufficient volume, treble, and slightly push of bass but it's not weak as compared to other laptops even branded with Harman Kardon.
Battery and Charging
The Matebook 14 2020 can last around 6 hours without a change and decent usage via WiFi and 50% brightness. Overall the battery is more or less just alright and isn't a tank compared to other laptops that can run mostly 8 hours or even more.
The charging time for us is around 1.5 hours to 2 hours depending on if you're also using it. But initially, we think it's no problem since the MateBook has enough performance to deliver in relation to the battery it can give.
Initial Impressions
For one week of using the Huawei MateBook 14, the Ryzen 5 4600H processor made waves to us that it can keep up with an on-the-go person's needs. It was able to keep up with our tasks perform well, the design is good, and battery life is ample enough for time-to-time travels outside. For the processor, 16GB RAM, and even 512GB NVMe SSD at SRP PHP54,999 the Huawei MateBook 14 2020 is a unique laptop to consider among the choices of brands.
While our review is not yet finished, we can primarily say that MateBook 14 2020 is a good choice especially for those who need a sleek laptop with decent performance.